You know you want one, you've just got to have one, it's only what the coolest dog guides and their people are wearing… Of course it's the 2021 White Cane Day T-Shirt and they are selling…like….well…T-Shirts! This year's T-shirt is a truly unique design that reflects not only the accomplishments of the blind, but the unusual times we are going through. So order early, because once they are gone, they are GONE!!
2020 T-shirt description: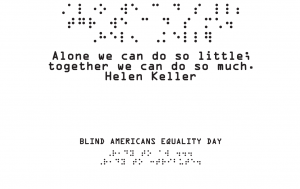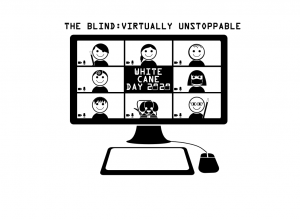 Black t-shirt with white ink.
Front:
THE BLIND: VIRTUALLY UNSTOPPABLE, below is a computer monitor, keyboard and mouse.  The computer is displaying 9 squares depicting a virtual meeting, in the center is White Cane Day 2020.  Each square displays a variety of animated people with canes resting on their shoulders, some wearing masks and a guide dog in harness, each square has a video and microphone symbol in the bottom left corner.
Back:
In puffed braille the phrase: Alone we can do so little; together we can do so much. Hellen Keller, below the same phrase in print, towards the lower part of the shirt in print is: BLIND AMERICANS EQUALITY DAY, below in puffed Braille is the phrase: Ready to work…Ready to contribute.