You know you want one, you've just got to have one, it's only what the coolest dog guides and their people are wearing… Of course it's the 2021 White Cane Day T-Shirt and they are selling…like….well…T-Shirts! This year's T-shirt is a truly unique design that reflects not only the accomplishments of the blind, but the unusual times we are going through. So order early, because once they are gone, they are GONE!!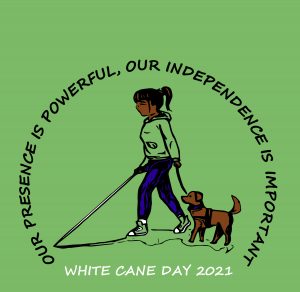 2021: Kelly green shirt, with black, white, brown, and blue ink
FRONT: On top, making a half circle in black ink the phrase OUR PRESENCE IS POWERFUL, OUR INDEPENDENCE IS IMPORTANT, below is a drawn image of a girl with a ponytail wearing a green hoodie, blue jeans and green sneakers using a cane holding the leash of a brown guide dog. A shadow of the girl and dog is on the ground.  Below the shadow in white ink is WHITE CANE DAY 2021
BACK: starting from the top down the phrase in print TOGETHER WE CAN EDUCATE THE COMMUNITY ABOUT BLINDNESS, below the same phrase in Braille. Towards the bottom of the shirt in print BLIND AMERICANS EQUALITY DAY, at the bottom in Braille the phrase Ready to work…Ready to contribute
They are selling fast so Order Yours TODAY!
For many, these T-shirts have become a proud part of their wardrobes. Want to see some of the great T-shirts of the past, Check them out HERE!